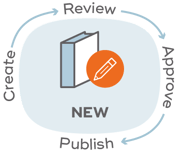 New documents
New documents are created and added to the repository: the original, native document and the published PDF version. Documents are reviewed and approved before formal publication. Read-only access to the published PDF documents is granted to all CDL users by default.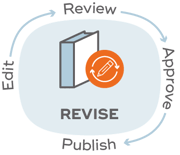 Revise Workflow
Documents selected for revision have the document's native file copied into the workflow. The native file is updated and reviewed within the workflow. When approved, a PDF of the native file is generated and electronically signed by the approvers. The signed PDF is added back as a version to the original document and the updated natives are added back as renditions of the new version.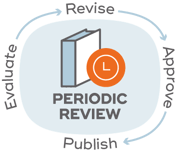 Periodic Review
Documents often need to be kept updated, this involves a periodic review. This can be set to be annual, bi-annual, or tri-annual based on the document type. Outcomes of the periodic review are either no action (renewal) or one of two workflows, Revise or Retire.
The person designated to perform the periodic review first decides if the document needs to be updated or if it is a candidate for retirement. If the document is to be retired, then the Retire workflow is initiated. If the document requires revision, then the Revise workflow is initiated. If the document doesn't need to be retired or revised, the periodic review date is reset.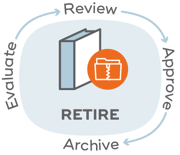 Retire documents
The purpose of the retire process is to move documents and their renditions out of the general population of the document system and into an online archive where documents remain for audit purposes. Access to retired documents is limited to those requiring audit access.